If you're in the market for a new residential HVAC system or appliance, you might wonder, should the furnace and AC be the same brand? For many everyday items, certain manufacturers design their products for use together, or you might choose to use certain brands together for maximum benefit.
Note that today's HVAC components are often computerized and need to communicate with each other for maximum efficiency. Using the same brand furnace and AC ensures that they communicate easily and work together as expected and that they can be serviced by the same contractor as needed.
While it might be recommended that a homeowner invests in the same furnace and AC brand, this doesn't mean that mismatched brands won't work together or might create performance issues between them. Investing in name brand, durable appliances with a strong history of quality performance can ensure that your home gets adequate heating and cooling over the years.
If you're in the market for a new furnace and AC for your home, note a few added tips and considerations to keep in mind when shopping, so you invest in the best appliances for your needs. You can also discuss your concerns with an HVAC contractor near you, as he or she can provide excellent, personalized advice for your home and budget!
Should a Furnace and AC Be the Same Brand?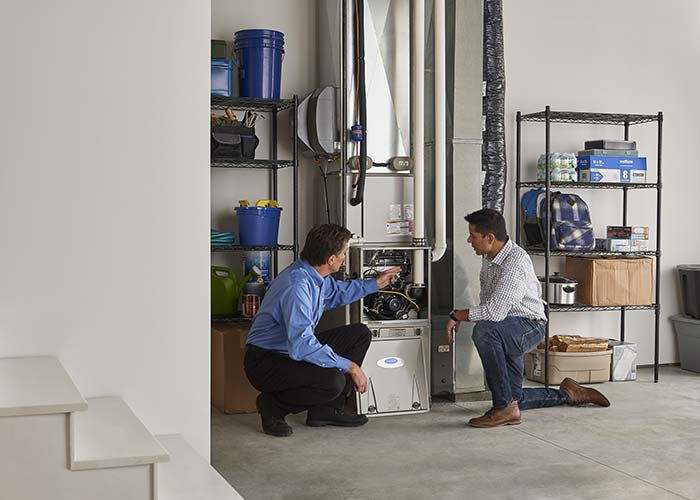 Variable-speed furnaces and air conditioners are becoming far more popular than staged heating and cooling. Staged furnaces and AC units operate at only one speed; their fan is either on or off. Variable-speed models, as the name implies, offer various airflow speeds. A slower speed will push less air through the home's ductwork than a higher speed; these speeds then affect your home's overall temperature and humidity.
While variable speed models offer added choices for indoor comfort, it's vital that a furnace is able to handle the added airflow of a high-energy, variable-speed air conditioner. Remember that a central air conditioner pushes air through the furnace filter and the furnace itself, which is connected to the home's ductwork. An undersized furnace not able to manage higher or faster airflow will suffer premature wear and tear and early breakdown.
Choosing the same brand furnace and air conditioner also ensures your HVAC repair contractor can work on both appliances! Someone experienced with a particular brand might also be better qualified to diagnose needed fixes or evaluate the expected lifespan of a certain furnace or AC model.
Are the Furnace and AC the Same?
If you didn't realize that a home's air conditioner pushed air through the furnace, you might then wonder if the furnace and AC are the same thing. This is not accurate; a furnace produces warm air while an air conditioner removes heat from the air and circulates that cooled air back through the home; while the two appliances are often connected, they are not the same!
To better understand how a furnace and air conditioner are different, note that there are different types of AC units. A home's furnace is connected to its ductwork so that it pushes air through all the vents or registers in a home; a central air conditioner is connected to the furnace so it also pushes that cooled air through those ducts.
Consider how a central AC unit is different than other models. A window air conditioner, as the name implies, sits in a window and pushes air through a front panel. Warm air is vented out the back of that unit, to the outdoors.
 A split system air conditioner, what you would find in a hotel room, is similar to a window unit, but a split system is installed along a wall or a room's ceiling. A split system AC has a hose that runs to an exterior wall, venting warm air to the outside as it operates. As with a window air conditioner, a split system pushes cool air through its front panel and not through the home's ductwork.
A portable air conditioner is mobile so you can move it from room to room; however, a portable unit has a vent hose that must sit in a window, so it can vent warm air to the outside. The portable air conditioner also pushes cool air out a front panel.
Window, split system, and portable air conditioners are only powerful enough to cool a limited space, while a central air conditioner pushes cool air through all the home's open vents or registers. A central AC also pushes that home through the furnace filter, while other units have their own filters built in.
Should You Replace a Furnace and Air Conditioner At the Same Time?
To decide if you should replace a furnace and AC at the same time, note the age and individual condition of each, and if you use one more than the other. For example, if your home's furnace and AC are both 7 years old, and you're now having problems with the furnace, you can probably expect the AC to also break down in the near future! Since both appliances are the same age, they are probably going to wear out at the same time; replacing the AC now means not having to worry about it suddenly failing on a hot summer day.
On the other hand, suppose you live in an area with long, bitterly cold winters and relatively mild summers. Even if you bought the furnace and AC at the same time, the air conditioner will probably last far longer than the furnace, since it's used less often and suffers less wear and tear throughout the year.
It's also good to consider the condition of your appliances no matter their age. A low-quality appliance will usually wear out sooner than a dependable, name-brand model; if you didn't purchase the same brand furnace and AC, one might very well wear out sooner than the other.
Note, too, that one appliance might suffer damage while the other still has years of life left to it. To illustrate, a basement flood might ruin the home's furnace, or something may have gotten lodged inside the AC compressor unit and damaged the motor and blower. In that case, you might just replace the one appliance since the other one will probably still operate as expected for many years to come.
Increasing Home Value with New Furnace & Air Conditioning
A new furnace and AC isn't likely to increase a home's value, but this doesn't mean they're a poor investment even when planning to sell a house! Note some reasons you might consider buying a new air conditioner and furnace once the current appliances start "showing their age" and are reaching the end of their expected lifespan:
While a new HVAC system might not increase property values, very old and outdated appliances can cause prospective buyers to lower their offers, even more so than the cost of a new furnace and AC! Buyers often consider the time and hassle involved in swapping out appliances, so it can be beneficial to do this yourself before listing your home.

Outdated gas appliances might risk dangerous leaks. Updating to newer appliances or even retrofitting the home to accommodate an electric furnace (and water heater if needed) can reduce and eliminate that risk.

Retrofitting your home to a more economical power source can also mean long-term savings. As an example, more and more homeowners are investing in solar panels, to provide their homes with clean, cost-efficient power. Swapping out a gas furnace for an electric model can then appeal to homebuyers looking to invest in solar.

Today's residential HVAC systems are more energy-efficient than ever before, which can mean lower utility costs, or enjoying even more heating and cooling without higher electric bills! According to Home Guides, swapping out an 80% efficient HVAC system for a 96% energy-efficient model can mean a 20% reduction in utility costs. That's a savings of $20 for every $100 you spend on heating and cooling throughout the year. 

A newer furnace and air conditioner are less likely to fail during the worst weather conditions! This is especially important if you live in an area with extreme temperatures, as you don't want to go without a furnace during bitterly cold weather, or an air conditioner during dangerously warm summer temps.

Investing in a new HVAC system now can mean few if any repair bills for the next 7 to 10 years or longer. If you're making long-term financial plans, choosing a new HVAC system can mean not having to budget for major repair costs during that time.
A homeowner should also note their own comfort when considering a new air conditioner or furnace purchase! If your current unit doesn't cool or heat interior rooms as expected, or needs constant repairs, upgrading to a new HVAC system can mean enjoying your home without having to fiddle with the thermostat constantly. You might also invest in zone heating and cooling or a separate split system AC, for maximum control over your home's heating and cooling.
Can I Install My Own Furnace and AC?
In most states, you will need a permit to install a furnace and air conditioner, and especially a gas appliance. In some areas, this will include a mechanic permit, meaning that the person installing it has a special license or other credentials, so that a homeowner without that permit or license cannot install their own appliances.
Even if you don't need specialty permits and licensing to install a furnace and air conditioner, a homeowner might strongly reconsider tackling this job on your own! Installing a new furnace or AC involves more than simply pulling out the old unit and sliding in the new, and then plugging it in as you might do with a refrigerator. Note that both electric and gas furnaces are vented appliances that need a proper connection to that outside vent or hose, to release noxious fumes outside the home.
Both a furnace and AC also need wiring to the home's thermostat. That thermostat might also need calibrating after a new furnace or AC installation, to ensure it's working properly. A contractor should also check the home's wiring overall, to ensure it provides enough power to the HVAC system and is connected to the circuit breaker panel properly. These simple checks and needed upgrades will reduce the risk of electrical shorts, brownouts, and even electrical fires!
Replacing Duct Work
As with all other building materials and fixtures in the home, ductwork does break down after time, usually about 15 to 20 years. Ductwork might rust or otherwise corrode, pull away from connectors, or begin to sag.
As ductwork suffers this everyday damage, holes and gaps form; these gaps let out heated or cooled air as it's pushed through the ducts. This makes the home's furnace and AC work harder than they should to keep exterior rooms at a certain temperature, spiking your utility costs and increasing wear and tear on the HVAC system.
A homeowner might also note that a home's ductwork is often home to insects and other unwanted pests, and can get coated with layers of dirt, dust, pollen, hair and dander, and other unhealthy debris not easy to clean! Professional duct cleaning can remove some debris, but eventually, it's best to have the ductwork replaced, to ensure it's in good condition and damage-free.
The Best Rated Furnace and Air Conditioner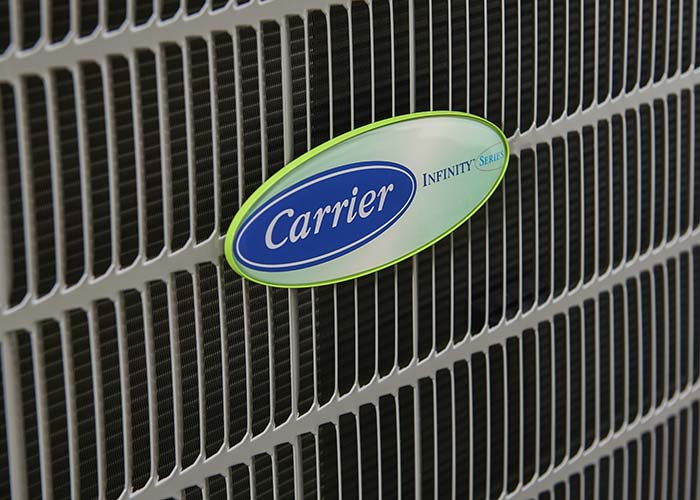 Carrier, Trane, and Lennox have proven over the years that their brands are reliable and durable. As these manufacturers have been around for years, it's also not likely they're go out of business anytime soon, leaving you without replacement parts needed for repairs!
If you're not sure the right brand of furnace and AC for your home, note that you don't want to make your decision based on price alone. Investing in high-quality appliances means less risk of premature breakdown, and more energy-efficiency over the years. To find out more, contact your HVAC repair person.
Cypress AC Repair Pros is proud to help answer the question, does a furnace & air conditioner need to be the same brand? We're also especially proud of the work offered by our Cypress AC repair contractors, and stand behind all our work with a full guarantee. To find out more about the furnace and AC repairs in Cypress you need to have done, give us a call today.